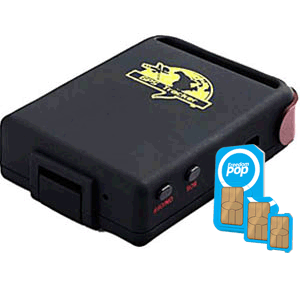 What do you pay for your GPS tracker sim card?
Data traffic is the most expensive factor in gps locating services. my-GPS.org is an affordable gps tracking solution because it is free of charge for one gps tracker. But what about the SIM card? What do you pay for that? 5£ per month? 10£? Most data plans are absolutely overrated. Does your gps tracker need 500MB per month? No, it doenst.
Introduction
You dont want to continue reading? Just jump directly to your free gps tracker sim card1 offer.
A GPS tracker data package transmitted to a gps tracking server has usually a length of 70 bytes up to 200 bytes including a little overhead for the TCP header. But that is not really much. The TCP header is not visible to you, it is something like an internal data package header, not large, not important for you, you dont need to care about that. So the total monthly data consumption depends on three factors:
How many times does the tracker send a package?


Just ask yourself: Do you need a 5 second interval or is 60 s enough? In many cases 3 minutes are okay too. The data consumption at 5 second interval is 36 times as high as 3 minute interval.

Which gps tracker is used?


(Coban tracker data packages for example are pretty small, let us say round about 70 byte per transmission. Xexun trackers or queclink trackers are causing much more traffic, nearly 150 byte per transmission. Teltonika trackers have a variable data package. You can decide what you need. The less you need the less you transmit.)

How long is the tracker in movement?


Most trackers dont consume data if the device / vehicle is not in movement. But you need to configure a power save mode so the tracker falls asleep while non-movement. Forgetting power save mode means that the tracker will work all the time, for nothing.
Depending on your conditions a gps tracker will cause only a few MB per month.
Let us talk about examples.
Commercial tracking
Most commercial tracking devices are working 5 days a week, 8-10 hours a day. If your gps tracker is transmitting one data package per minute we receive round about 600 data packages a day per each single tracker. So we get about 59kB data traffic assuming you are using a tracker with a 100 byte package on a 10 hour business day. So 1.3 MB on 22 business days is not really much so why using a 100 or 500 MB data plan? Money blown into the air.
High risk applications and services
Let us say you need your gps trackers for high risk applications like emergency rescue services, money transport or lone worker solutions the tracker should keep tracking all the day, no matter if the vehicle is in movement or not. Of course, the tracking interval should be faster than 60 seconds, let us say 5 seconds. Thats pretty much. Assuming these high risk trackers are running 24/7 a tracker will result in:
Low level / private use
Private use has typically the lowest data consumption. Using a gps tracker 2 hours a day while driving to work and driving home and some hours at weekend does not make you poor. Using a transmission interval of 60 seconds will cause round about 600 - 800 kB per month.
And now? Do you still believe you need a power user data plan? No. A small plan of 100MB per month is usually enough. As you can see reducing the tracking interval, choosing the proper gps tracker and using a power save mode (like less gprs mode for coban trackers) can reduce costs significantly. Freedompop offers the most affordable gps tracker sim card solution in the UK. Starting with a free plan and a free sim including 200MB data each month you cannot pay less than this. This is a really GPS tracker friendly solution.