Hi there. My name is Boris and i am the founder of my-GPS.org. I am 36 years young and live in germany. I own ~ 130 different GPS trackers and have tested all of them. The results are fundamental for the GPS tracker (protocols) we add to our GPS tracking software.
GPS Tracker for vehicles, review, impressions, nice to knows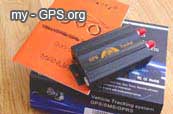 GPS tracker TK103B package content
The Package Content contains all you need: the GPS tracker TK103B itself, two external antennas (GSM and GPS, each cable is 3m long, ~ 10 feet), a relay for oil / engine cut, a microphone and the user manual (english). There are also included a CD and a remote control, but usually you dont need both.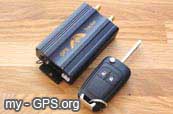 Size comparison with car key
Compared with a car key the TK103B is a really small GPS tracking system. This makes it usable for vehicles like cars and trucks, but also for motorcycles. The case can be mounted by the boreholes and 2 screws. If you use the TK103B in a motorcycle (near battery is best place) you can better use velcro fastener with some super glue.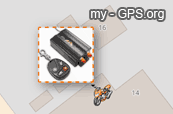 GPS live tracking system
The TK103B vehicle GPS tracking system is full compatible with our free GPS tracking software. You can connect the TK103B GPS tracker with some text commands, which you send to the number of the SIM card in the tracking system. After that you can track the unit live by cellphone, laptop or computer. Our free GPS tracking system is free for one unit. We are offering such services since more than 10 years. Server location and development are in germany, german data privacy protection included - software Made in germany. If you would like to track more than one unit you need a premier license. Our FLEET5 plan includes up to 5 tracker serial numbers, fast tracking (down to 5 seconds interval), long GPS track history (90 days) and 5 geo-fences per tracker. And the best: Premium GPS tracking without monthly or yearly fees - our FLEET5 is a lifetime plan, you buy it once and it is yours. No more payment required in the future.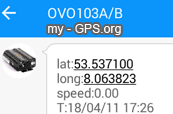 GPS tracking by cellular text message on demand
If you dont want to monitor your TK103B tracker live you can request the location / position by call. Just call the tracker by calling the number of the SIM card in your GPS tracker. The tracker will hung up the call after 2 rings and send you a location text message some seconds later. This message contains the location (longitude and latitude), speed, date and time, power state and ignition state.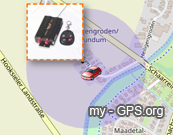 Geo-fence by GPS live tracking system
Our GPS tracking system supports more than live tracking and GPS history playback. The server based geo-fence lets you easilly draw a geo-fence on the map. If that geo-fence is triggered, you will get an alarm by e-mail and optional by text message to your cellphone (called SMS in germany). You can setup 2 types of geo-fence: alarm on enter and alarm on exit so you can decide if you would like to be alerted in case of leaving your site / property or if entering a prohibited zone (for example bad districts). The geo-fence shown at the image is called instant fence. You can set up that kind of round fence by just one click in our GPS live tracking system.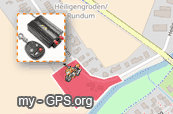 Extended polygone geo-fence
Our multi geo-fence is a polygone fence which you can also draw to the map. This fence supports multi-corner so you can create a suitable fence for your site / property including the site borders. You can also set up a fence including a district, a state or a whole country.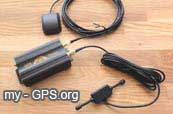 External GSM and GPS antennas for high precision and good signal quality
The external GPS and GSM antennas make sure, that the signal quality and location precision is always as good as possible. There are 2 antennas (GPS and GSM). Each cable has a length of round about 3m (~10 feet). The antennas are connected with the both 2 connectors on the side of the TK103B. There are 2 red caps, just remove and connect. The connectors are marked with a GPS and GSM label so you cannot mix up the connection.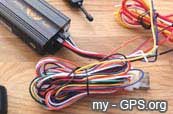 Connecting the TK103B GPS tracker to power
Because the TK103B is a vehicle tracker you need to connect the GPS tracker with a power supply. The cable connector offers a lot of single cables. If you just want to connect to power (not using oil / engine cut, not using door control and not using ignition control) you just need 2 of that cables. The red one is power (12V) and the black one is connected to ground (minus). You can connect the TK103B GPS tracker directly to the vehicle battery what is usually the easiest way. This kind of installation takes less than 5 minutes and is very easy, even if you are not an engineer.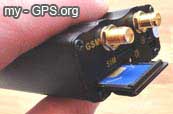 How to insert SIM card into TK103B GPS tracker?
Dont forget, that the TK103B GPS tracker is also a GSM tracker using the cellular network to transmit text messages and / or data traffic to a GPS tracking system. This means that you need a SIM card. Putting in the SIM is very simple too. Just open the slot on the side by pressing a small screwdriver or a ballpoint-pen into the push-button. The slot will release, drag out the slot, enter the SIM (electric contacts to the sky) and re-insert the slot.
  FREE nationwide 4G LTE GSM network traffic for fleet and GPS vehicle tracker - Many of our clients are spending to much money on their mobile internet services for GPS trackers. In UK and US you can track your GPS tracker without monthly fees. Find our more in our article FREE GPS tracker sim card in UK or visit our article about Freedompop free data and phones services in the USA1.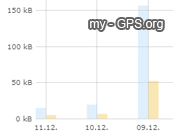 What about data traffic?
The TK103B is using only that data fields which are really needed (position location, speed, heading / driving direction, ignition state, alarms, door contacts). That means that each position package has ~ 70 bytes. This packet is sent according to the interval you have set up. If you set up a 60 seconds tracking interval the tracker will send a 70 byte data packet each minute. The monthly data traffic is usually far below 10MB per month.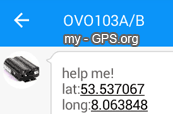 Emergency SOS / panic alarm (e-mail and cellular text message)
One special thing is the SOS / panic button connected to the cables. You dont need to use it so you can simply cut the cables to the buttons if not needed. But this panic button is a really nice feature. Press it, hold it pressed for ~ 3 seconds (this avoids failure alarm / false positive alarm if short pressed accidently). Some seconds later a text message will be sent to the authorized phone number. This SOS text message contains the keyword help me! followed by position / location (latitude and longitude), speed, datetime and a direct url link to google maps (including position). You can set up an authorisation number as a SOS contact so this number can receive that alarm. The SOS number is set up in the tracker by a configuration text message by cellular network (see our configuration commands at the bottom of this review). If you are using our live GPS tracking system that alarm will also be pushed to our servers so you will receive an alarm e-mail. You can set up 5 e-mail contacts per registered tracker (only premier license) so you can set up more than one person. You can also create a mobile text message phonebook so all of these persons will be alerted immediatelly by cellular text message.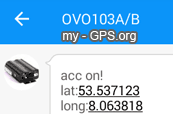 Ignition / ACC alarm
The TK103B also supports ignition monitoring. You can connect the ignition cable (not the red power cable) to the vehicle ignition so the TK103B GPS tracker monitors that ignition / ACC state. If you switched on ignition alert you will receive an ignition alarm by text message. This message contains the keyword acc on! and the data which you already know from SOS message (position location, speed, etc.). You can of course disable that cellular text message feature. Using our live GPS tracking system each ignition change is logged and - if you enable ignition / acc alarm in our alert center, alerted by e-mail.
Conclusion
I know that there are a lot of bad reviews on Amazon. In most cases these bad reviews are based on wrong expectations and misunderstandings - and of course wrong configuration. The configuration / setup is not really hard, you just need a few text messages and 5 minutes of your time to create a proper setup. If doing right the TK103B is one of the best GPS trackers available in the market. I am using that GPS tracker in my motorcycle. Would i as a GPS tracking specialist do that if the TK103B would be trash? Never. My recommendation: Buy it.

Yours sincerely
Boris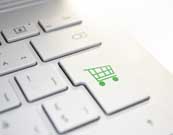 Where to buy the GPS tracker for vehicles TK103B?
Usually we recommend to buy on Amazon. Amazon offers the best delivery times and the best return / money back policies. Just choose your country to get forwarded to your suitable Amazon site. If your country is not listed just use the US flag. That site is the global Amazon site (you can order there from most other countries in the world).

Buy GPS tracker for vehicle TK103B on Amazon.com (US and other)

Buy GPS tracker for vehicle TK103B on Amazon.co.uk

Buy GPS tracker for vehicle TK103B on Amazon.ca

Buy GPS tracker for vehicle TK103B on Amazon.es

Buy GPS tracker for vehicle TK103B on Amazon.fr

Buy GPS tracker for vehicle TK103B on Amazon.it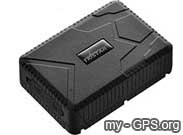 Looking for a TK103B alternative - what about a GPS tracker with long battery life and without wiring?
Check out our product review about the GPS tracker with long battery life TKStar TK915 (Also known as Juneo TKMars TK915). This longlife GPS tracker offers very long battery lifetime (~6 month) with its huge 10000 mAh battery. Mounting is also very easy because the TK915 has 6 built-in super strong power magnets. And of course this modell supports a lot of alarms (geo-fence, low battery, overspeed, removal, motion, etc.). Did i already mention that the TK915 is waterproof also? [Read more about the GPS-tracker with long battery life]
---
The language country icons at the Where to buy section are published under Attribution 3.0 Unported (CC BY 3.0), Muharrem Senyil